by Kelly
Last year Donna and Dawn and I made some things to donate to a local charity drive called The Mitten Tree. They distribute donated hats, scarves, gloves and of course, mittens, to kids at local schools. This drive is organised through a library, so it should be no surprise that there is a book titled The Mitten Tree. It should also be no surprise that I find this really neat and decided to write a post about it.
I found the review below on a great site that I've visited before called
Carol Hurst's Children's Literature Site.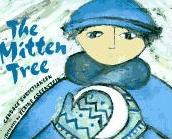 Sarah, an old lady, lives by herself. She misses her grown children and so, she watches the children who wait for the school bus near the big evergreen tree. Although Sarah smiles at them as she walks by, they ignore her. When she notices a little boy, dressed in blue, who can't enjoy the snow play because he has no mittens, she finds some blue yarn and knits a pair of mittens which she hangs on the tree at the bus stop. Nobody sees her do it but the little boy in blue arrives first at the bus stop that morning, and seems to know the mittens are for him.
According to my husband the librarians were really happy with our donations last year, so that inspired me to make even more this time. So here's my contribution for this year.
Everything is knit with the exception of the hat in the far right corner, which is a purchased hat that I embroidered with yarn and my trusty size 13 tapestry needle.
I originally tried to decorate the hat with embroidery floss and needle, but the flowers were just too tiny. Using the yarn worked much better.
Oh, and that's just my portion of the donations. Wait until you see them all together. I'll post about that just before we take them in.