Crochet has lately made great strides back into the fashion industry, after languishing unloved in thrift stores since the '70's. I've seen crochet bags in Eddie Bauer stores, cardigans in the teen store
Forever 21
, and
shorts
,
swimsuits
and full blown dresses in
Victoria's Secret
.
And while it's great that crochet designers are shattering the granny stereotype, some of the items that I've seen are a little too daring for me to actually wear. Check out this halter top, for sale at
Craft Is Art
...
or this erm...skirt for sale at
Tags.com
...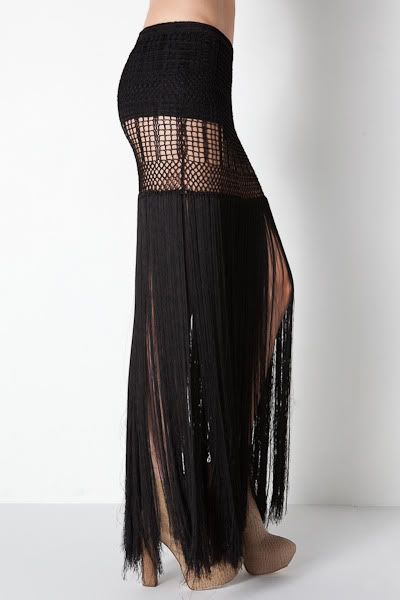 The skirt is available only in size XS, which lets me out anyway, even aside from the price, which is a '
gosh price'
if ever I saw one. Would I wear this even if I had the build of the model in the picture? Ahhh...no.
But the most risqué item I've seen by far isn't actually for sale in stores...it is however, available as a free pattern at
Knitty.com.
This is a knit pattern using red liquorice ropes which is quite ingenious, actually and...well, you'll just have to see for yourself
here
. I'm not sharing the picture, but there's nothing especially offensive about it...it's on Knitty, after all. I just don't want to ruin the surprise.
I'm wondering what future generations will think of crochet, when they have these items to look back on...