by Kelly
In honor of Talk Like a Pirate Day, here's a post all about piratey things.
For those of you who have the book Creepy Cute Crochet, did you know there was an expansion pack? Including a pirate captain??
From
doe c doe
the embroidered/applique ship below. Visit her blog to see more - including the inspiration.
Ann Wood has beautiful boats in her shop
here
. They sell out fast, so order a custom one in your favorite pirate's colors. Ironically, she has had some trouble with pattern piracy, and understandably so - her owls, songbirds, and other creations are amazing. Even more interesting is that she uses tattered antique scraps of ballgowns and other textile ephemera in her work. Check out her blog
here
.
Yes, every pirate needs a ship - and a hat.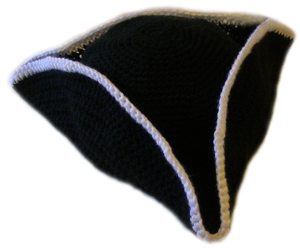 Pattern for the crochet hat available at
Crochet Spot
.Cost is about $5.
Happy Talk Like a Pirate Day! Arr!